The popularity of Linux has been able to replace Windows at many workplaces, and the same scenario was also reported for personal users. Hence many popular apps from various platforms such as Android and Windows are being integrated into Linux and its distros.
Business emails/chats are also being replaced by instant messaging and communication apps as they provide more options to share files, photos, and videos, making the whole process easier. It would be great to use messaging apps on the Linux desktop that we use on our mobile devices. According to your mood, apps like these give you the flexibility to use the messaging app wherever you want.
2020 and 2021 also taught us the importance of messaging and communication apps because these apps made it possible for many businesses to run smoothly in the time of crisis. So, in this article, we're going to have a look at the best messaging and communication apps for Ubuntu.
1. Telegram
Telegram is one of my favorite instant messaging and communication apps out there. It is an open-source app that can be used on a mobile device as well as desktop. Cloud-based technology makes it easy to access from anywhere and several devices at once.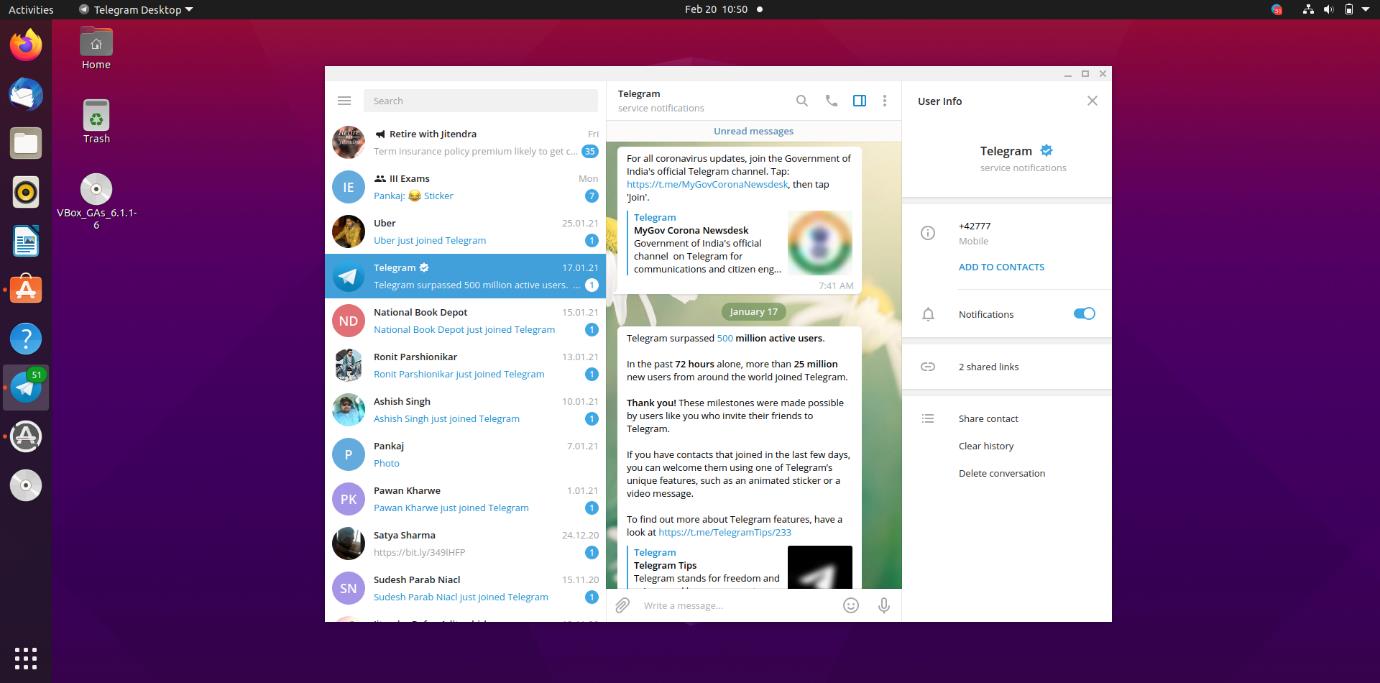 It is a cross-platform application that works on Windows, Mac, Linux, and Android operating systems. The best thing about this messenger is that there is no size limit to share files and messages. Hence you can share as much as messages, images, and videos you want no matter what file size is.
On top of all this, it comes with end-to-end encryption, which helps you keep all your messages secure. Recently they have released a patch that helps users switching to Telegram can bring their chat history, including media files, to Telegram from their older messaging apps like WhatsApp.
2. Skype
Skype is one of the oldest messaging and communication apps for desktops out there, but it is still one of the best for video conferencing. Right from college lectures to business meets, everything is being done on Skype for almost a decade, and its worth has soared up even more in a recent situation.
Linux and its distros like Ubuntu have their own dedicated Skype client, even before Microsoft has officially released it. Skype integrates well with Ubuntu and makes it very easy to use for a new user.
As I mentioned above, it allows you to make audio and video calls, send text messages and share media files.
3. Slack
Slack is a powerful messaging app specially developed for business use as it offers a lot of options and configurations. It is one of the best out there but comes with a price tag.
It lets you chat and have a conversation with your colleagues in real-time, just what every business needs for smooth functioning. It comes with a modern user interface which makes it very easy to use, even for a newbie.
Many business users love slack as it offers the features and options that no other messaging app has on offer to date. It recently came up with a bunch of updates that include interface changes and the Compose button that lets you write messages in a large editor, making it more comfortable for you. So, it's one of the best in business.
4. Wire
The wire is another modern desktop messaging platform ideal for business use. It provides quite a competition to Slack in terms of features offered. These messaging apps are voice, video, conference calls, file sharing, and external collaboration. Everything is secured by end-to-end encryption.
It is an open-source application; hence you don't need to be worried about transparency. Of course, it comes with a price tag and has two versions on offer pro and enterprise version, with both having their own set of features and offerings.
5. Viber
Viber is a cross-platform VOIP and instant messaging app managed by Rakuten, a Japanese multinational company. It is a feature-rich communication app that is ideal for personal as well as professional use. Like other top messaging apps, you can send texts, images, videos, files, and you can even send voice and video messages.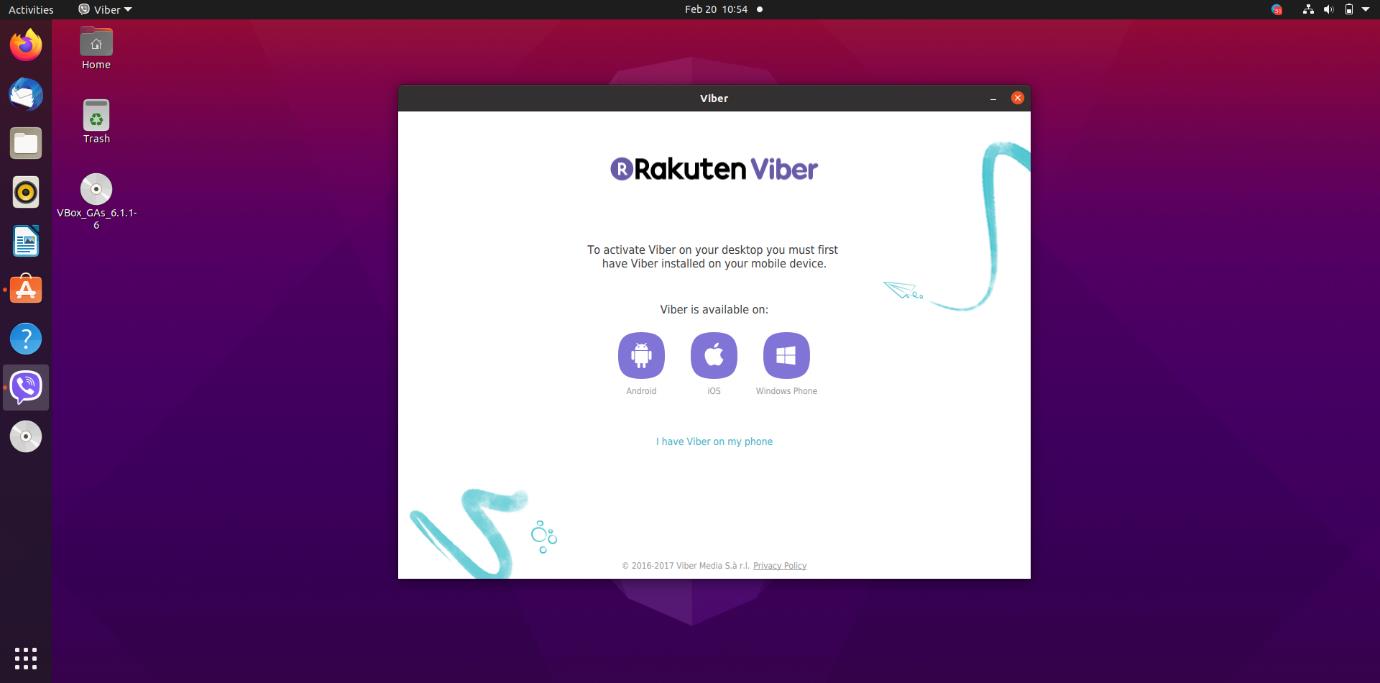 You can also make voice and video calls. Apart from that, you can share stickers and GIFs, and also, you can make your own stickers. Viber also offers group chats and calls, which makes it ideal for business meets. You can also send disappearing messages which self-destruct themselves after a particular time, which adds extra privacy.
6. Signal
This messaging app has made a buzz recently as a privacy-friendly alternative to the popular app WhatsApp. Increased reliance on the internet as a medium of communication has raised serious personal privacy issues. Hence you need a reliable medium to connect with your friends, family, and work colleagues without worrying about privacy.
Well, the signal is the app for you. It is an open-source app that is available for mobile phones as well as desktop platforms. Talking about features, you can choose unique backgrounds for individual chats, an incognito keyboard on some devices, and message details with a timestamp.
Like any other messaging apps, you can also send text, voice messages, photos, videos, GIFs, and all this is for completely free.
7. Wickr
Wickr is a cross-platform instant messaging app specially built for enterprise use. It is a highly secure messaging and communication platform with end-to-end encryption and some very advanced security features.
Individual, group messaging, voice and video conferencing, and file sharing are bundled in this app. As I said earlier, it is developed for enterprise use, but it can also be useful for individuals for personal use.
So, these are the best messaging and communication apps for Linux and its distros like Ubuntu. All the apps listed above are ideal for business as well as personal use. Let us know if you have used any of the above applications and your experience with them. Share your thoughts with us at @linuxhint and @SwapTirthakar.