A scanner is one of the most essential tech tools for your home office or commercial use. You want to ensure that all your documents are digitized for safe storage that can only be attained through a high-quality scanner. Buying a document scanner that fulfills ALL of your needs is difficult. But when it comes to buying the best document scanner that's compatible with Linux, the choice gets even more challenging.
That's because there aren't many good scanners when it comes to finding the best ones for Linux systems. You don't want glitchy software, less durable hardware parts, and unresponsive customer support. So, we did some digging, and to save your time and efforts, we found the top scanners for Linux systems that you can try.
Take a look at the following suggestions and see which one fits your needs. Also, there's a buyer's guide section, in the end, to help you make an informed decision. Read on!
1. Brother ADS-2200 Desktop Document Scanner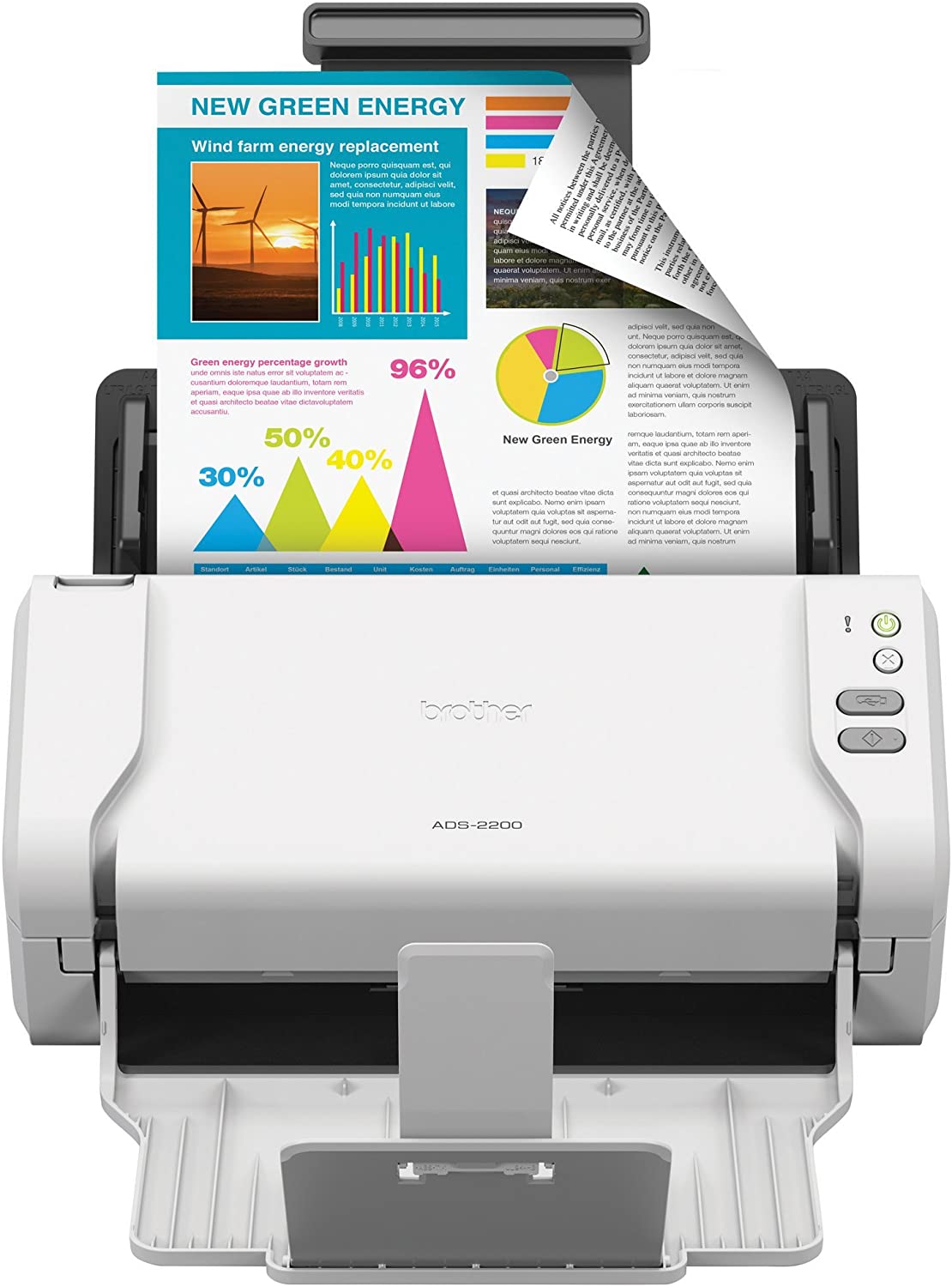 The Brother ADS-2200 High-Speed Desktop Document Scanner was designed while keeping small business owners in mind. It offers a simple operation, fast scanning process with all the basic features at an affordable cost.
This scanner is popular because it offers a USB thumb drive scanning ability that is rarely found in a scanner of this price point. It features a basic 50-sheet document feeder that supports paper of all sizes and types. It can scan up to 35 one-sided pages per minute, which is good and fast.
Moreover, the Brother ADS-2200 High-Speed Scanner gives out impeccable OCR performance and has a space-efficient compact size. You can conveniently place it in your home office and even connect it to several computer outlets simultaneously. The simple operation and easy-to-adjust settings make this scanner a very appropriate option.
It is compatible with Linux, MAC, Windows, and Android. However, it doesn't support Wi-Fi connectivity. You have to connect it via a USB 2.0 cable. Nonetheless, you're getting a high-speed scanning machine at a very reasonable price, so we call it worth a shot. Pro Tip: Use "Simple Scan," which comes with most Linux distros, to work with this model.
Buy Here: Amazon
2. Epson Workforce ES-500WR Wireless Document Scanner
The Epson Workforce ES-500WR Wireless Color Scanner is another incredible document scanner we came across during our research. It is a portable scanner that can scan up to 35-pages per minute and is compatible with all Linux, MAC, Android, and Windows Operating Systems.
It features duplex technology that scans both sides of a document in one go. You get a 50-page automatic document feed with the scanner, and it can scan up to 500-pages per day. Incredible speed, right? It's also pretty easy to use and handle. You don't have to be tech-savvy at all to operate.
The ES-500WR can efficiently extract data from PDF documents, receipts, images, and a wide range of other files. It supports Wi-Fi and a USB connection. It also offers networking and cloud scanning features. So, you can either connect different computers to the scanner at a time or scan documents directly to cloud drives such as iCloud, Dropbox, or Evernote.
What's more, it is backed by a one-year warranty, giving you peace of mind in case a part of it stops functioning.
Buy Here: Amazon
3. Fujitsu ScanSnap iX1500 Color Duplex Document Scanner
The Fujitsu ScanSnap iX1500 Color Duplex Scanner is another option we have when it comes to finding the best document scanner online. It holds stellar ratings and is the first choice of any small business owner because it works well with Linux, Windows, MAC, Android, and iOS software.
The ScanSnap iX1500 Document Scanner offers high-quality scanning with the fastest speed results. It can digitize up to 30-double sided pages per minute and comes with a 50-sheet document feeder. It is very user-friendly and features a large, 4.3″ touch screen display that will allow you to make necessary adjustments conveniently.
You can connect the ScanSnap iX1500 Scanner with a USB connection or over Wi-Fi. We also love the fact that it can handle papers of all sizes and types. It cleans up nice and has a very compact size suitable for a small office. You also get the option of scanning colored images, which is a commendable feature. That means you don't have to invest in a separate color scanner if you opt for ScanSnap iX1500.
However, it's not perfect. When compared to similar scanners, it is somewhat expansive. And there's no Ethernet support either. If your Wi-Fi gets clunky often, you may not be able to connect with this scanner.
Buy Here: Amazon
4. Brother DS-620 Mobile Page Scanner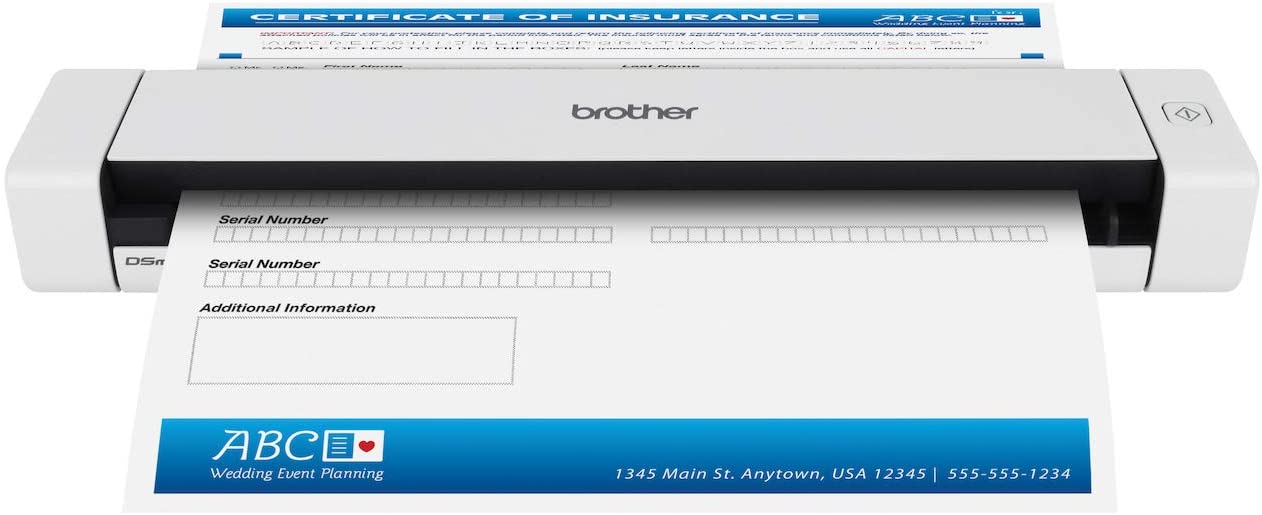 If you're searching for the best portable document scanner to digitize 5-10 pages per minute, several times a day, then the Brother DS-620 Mobile Color Page Scanner is a good option. It can scan up to 12 pages in one go. The scanning quality is fantastic, and it can handle regular writing efficiently.
This scanner offers an optimum scanning speed, decent scan quality, and a convenient file management system at a very attractive price point. It is powered through a USB port and is compatible with Linux systems, Windows, and MAC.
We absolutely love that it's portable and lightweight. This makes it easier and convenient for you to carry around. Software is good too. After scanning a document, it displays a 30-second countdown timer. You can insert the next document in this window if you want, and it will automatically scan the following ones.
The scanner has a flaw, though. It scans only one page at a time. So, if you happen to be someone who scans more than 60-pages a day, you may want to consider a few of our other options.
Buy Here: Amazon
5. Canon ImageFORMULA P-215II Mobile Document Scanner
Not interested in a conventional scanner? Why don't you take a look at another one of the best portable document scanners for Linux, the Canon ImageFormula P-216II Mobile Document Scanner. It can scan up to 15-pages per minute.
It's a little bit larger as compared to most portable scanners and heavier as well. But it's still pretty portable. The scanner features an automatic document feeder along with a duplexer for fast and efficient scanning. It's a little finicky when scanning multiple pages simultaneously. You need to separate the input pages while feeding into the tray slightly.
This one is powered through a USB connection, so there will be no need to connect additional wires. We loved the additional covering the scanner comes in. It protects the scanner's internal components while enhancing its durability.
Overall, it's a very versatile scanner. Features like multi-scanning and multi-size scanning make Canon ImageFORMULA P-215II Scanner hard to miss at this price point.
Buy Here: Amazon
Buyer's Guide for the Best Linux Compatible Scanners!
Going paperless has become very important for business affairs to run smoothly. The only way to do that is to find a scanner that can convert all documents and important files into a digital format. So, when you're hunting for the best document scanner, here are all the factors you need to consider.
Resolution
Every scanner that you see on the market comes with specific dots per inch or DPI. For written documents, we have found 600DPI to be decent. You can always get a better resolution if you opt for something higher than the said figure as per preference. If you plan to use it for scanning pictures, you cannot buy a scanner that offers less than 1500DPI.
Speed
Don't like waiting too much while your documents get scanned? Scanner speed is another crucial aspect that you need to consider when buying one. Always check how many pages the scanner can scan per minute. Obviously, high-speed scanners are costly, which is given if you have to scan larger piles of documents daily.
Multiple connectivity options
Also, consider if the scanner you are choosing comes with multiple connectivity options or not. Usually, scanners come with Wi-Fi, Ethernet, USB port, cloud connectivity, and numerous other mobile connectivity features. The more the merrier! It gets really hard when working in a professional environment with only one connectivity method.
One-sides or two-sided
Do your scanner scans both sides of the paper in one go, or will you have to scan the other side separately? Most of the scanners you see on the market can only scan one side simultaneously, which is very time-consuming. If you have the budget, choose a scanner that can do both at once. Such a scanner is called a full-duplex scanner.
Fax, print & copy
For an SME, having all these machines in a small office can be difficult. There are scanners available that offer all these features and become your one-tool-for-all. While scanners with these many features can be costly, they are always a better option.
Final Thoughts
So, this is everything about the best document scanners for Linux systems. As you can see, finding a scanner isn't as difficult as you may have assumed in the beginning. You just need to find something that you can rely on, which offers efficiency in your budget. We hope this article helped you make an informed decision. That's all for now. Thank you for reading.