Bitcoin is the first-ever digital currency, also known as cryptocurrency. Bitcoin is becoming more and more popular due to the increasing internet user base around the world. The increased popularity of Bitcoin gave rise to several different Bitcoin Wallets, which are available for different platforms like Windows, Mac, Android, and Ubuntu.
Now, in 2022, Bitcoin is one of the most recognized cryptocurrencies in the world, and many accept Bitcoin as a payment. And desktop wallets are one of the most secure options for sending and receiving payments.
The number of Bitcoin wallets is increasing rapidly, and choosing a secure and reliable wallet among them is a difficult task. Users should ensure a Bitcoin wallet is available for the most popular platforms and supports other important features like a backup to prevent loss of Bitcoin, user privacy and security, etc., before selecting a Bitcoin wallet.
To make this process easier for you today, we will look at the best 9 Bitcoin wallets available for the Ubuntu platform.
1. Armory
Armory is an advanced bitcoin client which offers secure cold storage on offline computers. It is one of the most secure Bitcoin wallets, and the Armory Bitcoin client is available for Ubuntu repositories which can be downloaded from the Armory website and Ubuntu Software Centre. Apart from being safe and secure, it also supports many wallets.
Features
Armory is an open-source Bitcoin wallet, and everyone has permission to develop apps and extensions for the Armory wallet.
Cold storage is a unique interface designed by Armory to manage Bitcoin offline. The user must install the Armory client on a computer to manage Bitcoin without internet access. Anyone can create a wallet on any computer without the internet and manage a wallet when the internet is accessible without any risk. With the help of cold storage, all the private-key data is stored on an offline computer where any outsider cannot steal your Bitcoin. The private-key data stored in a computer is encrypted so that if anyone gets physical access to your computer, then it will take ages to decrypt data.
Download Armory Wallet from Here
2. Bitcoin Core
Bitcoin Core, earlier known as Bitcoin-Qt, is the official Bitcoin client which helps Bitcoin's network security run properly. As this client is official from Bitcoin, it is highly secure and reliable. Bitcoin Core has some fundamental features as compared to other competitors.
Features
Bitcoin Core ensures that every transaction being performed is valid to keep your Bitcoin wallet secure. It also prevents Bitcoin banks and miners from taking full control of your Bitcoin wallet.
Bitcoin Core provides some excellent privacy features to protect customer's identity and important data from the outside world. Bitcoin Core also protects sent and received transactions using a strong privacy network.
Other features include backing up private keys, cold storage, i.e., offline wallet, security notifications, etc.
Download Bitcoin Core from Here
3. Copay
Copay is an open-source Bitcoin wallet that is a safe, secure, and reliable wallet available for the Ubuntu system published by BitPay, which is well-known for its security services. Copay is a multiple-signature wallet, which means we can set up a shared wallet account that requires private keys from all account holders to perform and confirm a transaction.
Features
A shared wallet is a very good feature from Copay, but there are also other features like you can manage multiple wallets using a single Copay app.
Copay also supports the full Bitcoin Payment Protocol, which ensures secure and reliable Bitcoin transactions.
As mentioned, Copay is an open-source wallet, so if you are an enterprise user or a programmer, you can take full control of Copay apps and Bitcoin Wallet Service by developing your own code and enhancing security features on your own.
Copay is available for download and installation through the Ubuntu Software Centre.
4. Electrum
Electrum is another lightweight Bitcoin wallet for the Ubuntu platform. Electrum requires fundamental computing hardware for its functions, so if you have a very old computer, then the Electrum Bitcoin wallet will be best for you.
Even if it runs on minimal computer resources, Electrum hasn't made any compromise with its features. Like Copay, it is also an open-source wallet that supports multiple signature wallets. Like other Bitcoin wallets, it also stores private keys on offline storage to protect them from external threats.
Features
As mentioned, Electrum stores private keys offline to protect users from hackers. Users can also use their Electrum wallet private keys in other Bitcoin wallet clients.
Electrum also does proof checking by keeping track of customers' previous transactions.
Electrum also supports third-party add-ons like Multisig services, hardware wallets, etc.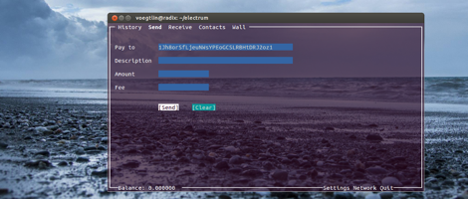 5. Exodus
Exodus became popular in a very short time as it was launched in July 2016. Exodus is not only a Bitcoin wallet but a Blockchain Wallet Asset, which is also called a digital currency or cryptocurrency. Unlike Bitcoin Core, we don't need to download the whole Blockchain as it is a lightweight wallet.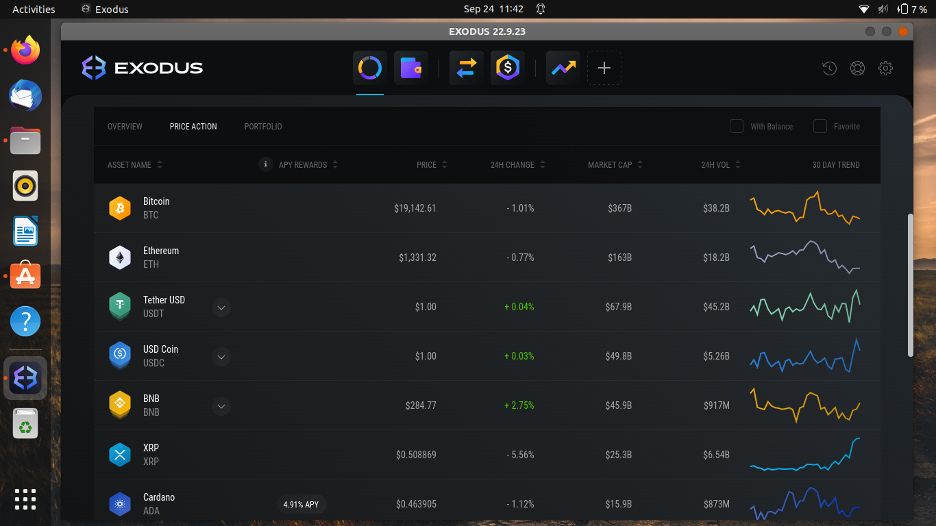 Features
The User Interface of Exodus client is very attractive but simple. Even if you don't have any knowledge about Bitcoin and how it works, you can still use this wallet.
Exodus stores all the private keys of your cryptocurrencies on the user's computer storage. Users also can back up wallets to a computer in simple steps provided in the Exodus client.
This is one of the best features available in Exodus. Users can exchange or trade their Bitcoin with other Bitcoin alternatives and vice versa. Exodus has an exchange algorithm powered by Shapeshifts that performs the exchange or trade of digital currencies in a few seconds.
6. Coin
Coin is a simple and intuitive cryptocurrency wallet that is very easy to use and comes with great features. It is a single wallet to manage all your crypto on multiple blockchains.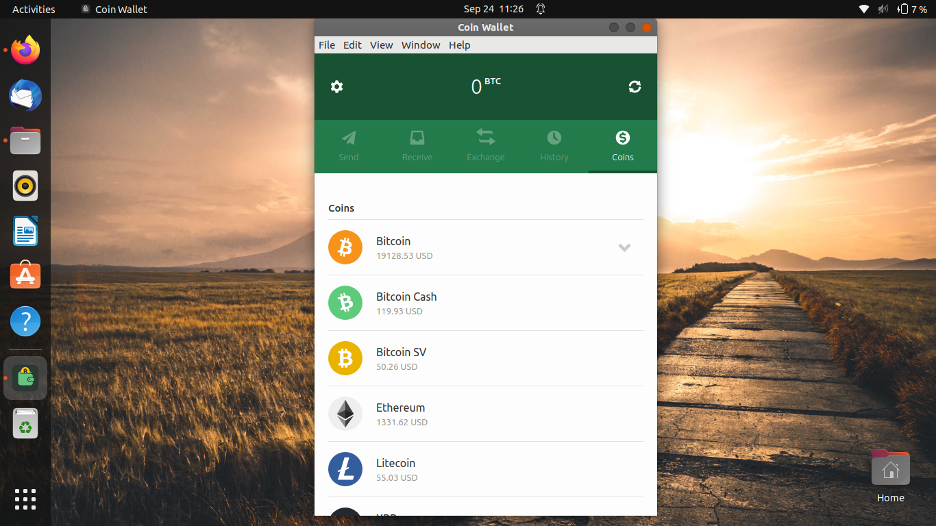 Features
Coin wallet user interface is relatively modern but very easy to use and navigate. The user interface is neat and clean across all the platforms.
Safety and security of user data are among the developers' first priorities, which makes it one of the most secure Bitcoin wallets out there.
Apart from Ubuntu, Coin is available for all the popularly used operating system platforms, such as Windows, macOS, Android, iOS, and Web OS.
7. BitPay
BitPay is the HD multi-signature bitcoin wallet that supports multiple personal and shared wallets and the full Payment Protocol.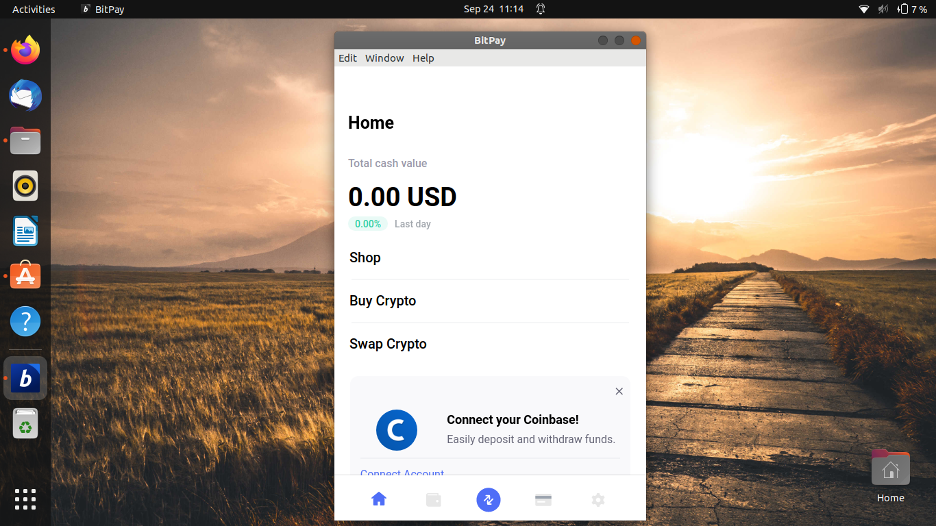 Features
Multi-signature and optional key encryption make it one of the most secure bitcoin wallets. You can also manage your assets seamlessly across multiple platforms.
Using the BitPay wallet, you can spend Bitcoin with your favorite brands. You have dozens of retailers to choose from.
8. Sparrow
Sparrow is one of the best Bitcoin wallets with a primary focus on security, privacy, and usability.
Features:
Sparrow Wallet gives you full control over your Bitcoin, meaning no third party can take control of your funds.
It is a lightweight Bitcoin wallet with simple yet beautiful user interface. It is very easy to use and understand Bitcoin wallet.
9. Wasabi
Wasabi is a cross-platform open-source Bitcoin wallet that focuses on privacy. It is available for Windows, Linux, and Mac.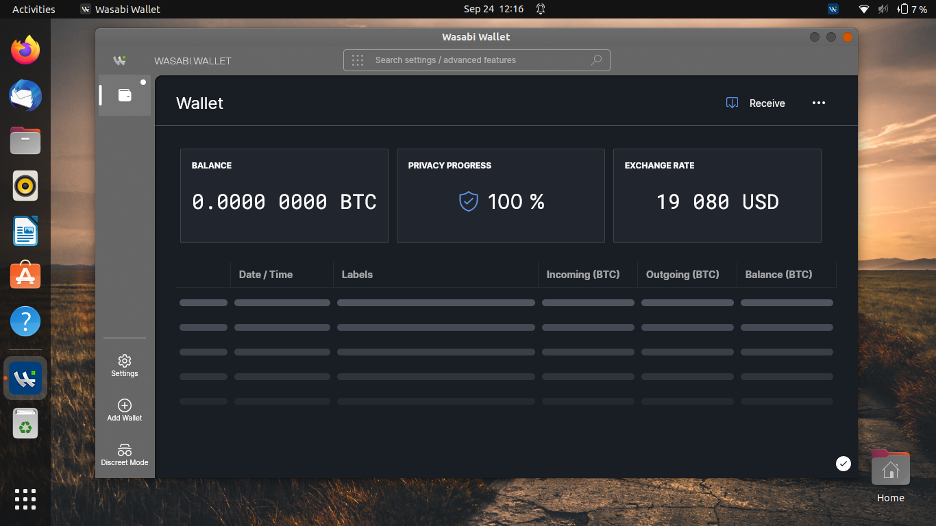 Features
Wasabi is free and completely open-source software. Anyone can reproduce and contribute to the code.
It is designed so the public or developers cannot breach your privacy as one of the most secure wallets for crypto transactions.
Conclusion
These are the best 9 Bitcoin wallet clients for the Ubuntu system, which you can use in 2022. Crypto transactions are more about safety and security, so all the wallets listed above are one of the most reliable.