GNOME shell comes with a dashboard-like application menu layout by default. The default layout features a spacious, grid-like layout, search bar, and large icons for easy accessibility. Linux users who have used Unity or macOS application menus would find this menu familiar. This article will cover a few application menu extensions that can be used as alternatives for the default menu in the GNOME shell.
Enabling Installation of GNOME Shell Extensions
To install and manage GNOME shell extensions directly from the official extensions website, you must first install browser plugins. These plugins are available by default in some Linux distributions.
In Ubuntu, you can install plugins for Chrome by running the command below:
$
sudo
apt
install
chrome-gnome-shell
The integration plugin for Firefox can be downloaded here. Installation instructions for other Linux distributions are available on the official GNOME wiki.
You may need to restart your browser to finish plugin installation. Once plugin installation has completed, you can directly install and enable the extensions from the official GNOME shell extensions website.
Arc
The Arc GNOME Shell extension brings a new menu layout to your desktop. In many ways, this shell is similar to the main application menu launcher you will see in Windows 10, though it does come with some unique features of its own. The Arc menu also integrates well with popular dash-to-dock and dash-to-panel shell extensions.
The main features of the Arc menu include:
Integrated search bar, akin to the search bar in the default GNOME shell application menu
Supports tooltips and right-click quicklists
Supports navigation through keyboard
Apps are neatly classified into separate categories
Supports user-made custom shortcuts
Comes with 17 menu presets, including a touch-optimized layout, a Unity-style layout, a dashboard-style layout, and more
Supports theming of menu with custom, user-selected colors
Supports pinned/favorite apps
Settings can be imported and exported for quick customization
Supports invoking menu through default "Super" hotkey
Can completely replace the default GNOME shell menu
To install the Arc menu extension in Ubuntu, first run the command below to install the required dependencies:
$
sudo
apt
install
gnome-shell-extensions gnome-menus gir1.2-gmenu-
3.0
Install and download the Arc menu extension here.
Frippery
The Frippery applications menu is a replica of the classic GNOME 2-style dropdown menu. The Frippery menu is pretty minimal and provides a list of applications that are cleanly separated into various category heads. This extension is perfect for those who are not looking for many features and who want a good, old-school dropdown menu layout for accessing apps.
The Frippery applications menu is available here.
Classic Mode
The Classic Mode menu, or simply "Applications Menu," is an officially supported alternative menu extension for the GNOME shell. This application menu is a part of the official classic mode that comes with the GNOME shell. The Classic Mode menu does not come with any customizations and can be considered an extremely watered-down version of the Arc menu. All you get with this menu are some categories and applications classified under the categories.
Install the Classic Mode application menu here.
Application View Columns
Application View Columns is an established standalone application menu extension. It is designed to increase the number of visible items in each row of the default GNOME shell menu dashboard. In simpler terms, it increases the column count in the default menu.
Install the Application View Columns extension here.
Once the extension has been installed, a new slider will be created in the default power menu located at the top right corner of the GNOME shell interface. You can easily tweak the column count by moving the slider.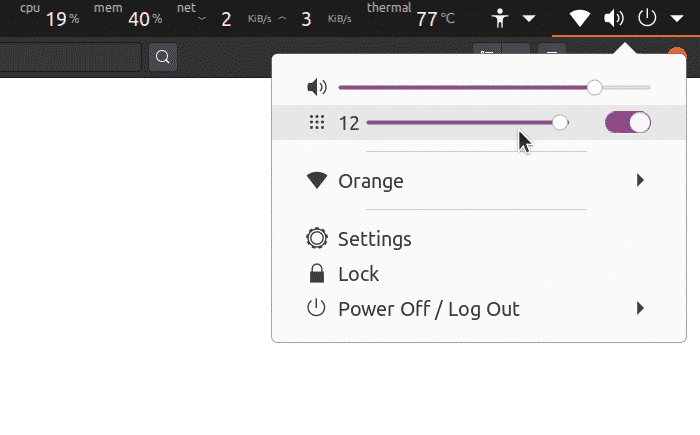 Conclusion
These are some alternative menu extensions available for the GNOME shell. While there is not great variety in these extensions, some extensions, like the Arc menu, are highly customizable. You can tweak the Arc menu for a classic look and feel, as well as customize it for a modern, dashboard-like layout. This article has provided you some useful information about application menu extensions to use in the GNOME shell.